Last year, Apple made the decision to discontinue the iconic iPod Classic line, mainly due to the lack of demand, as well as the associated production costs to keep this player on the sh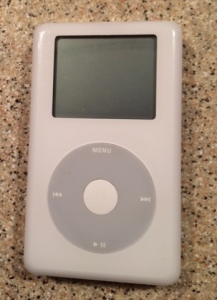 elves at retail stores. It was a logical progression, especially since the iPhone has become the all-in-one media solution – all with newer features and a slimmer design.
Given all that, I'm sure most of you have an iPod Classic sitting on a shelf or tucked in a drawer with a tangled pair of earbuds somewhere in your home. I recently found my 80GB iPod Classic, and it was a like discovering a time capsule of music. From artists that ranged from Miles Davis, Tito Puente to John Coltrane and Counting Crows (remember them?).  While that music is still all good, many thoughts came to mind of ways to use this iPod. I also got a new car, so the timing to resurrect this old iPod was perfect.
Here's my short list of some options for your iPod Classic: 
1) Get Mobile: Most cars have the ability to pair all media players, including the iPod Classic, making it a great solution for storing music and playing your favorite tunes on the go. The uConnect system has a great user interface for managing your music library. Another big plus with the iPod is the capacity, so even a 80GB model can hold over 13,000 tunes, providing much music on the open highway.
2) Back it up / Music on the Go: You can use the iPod Classic as a swap or backup drive for your music collection, serving as a good way to have a backup of your tunes on the go.
3) Hook it Up: You can also use the iPod Classic as a solution to play your favorite tunes on your sound system. Most systems support the ability to dock or mount an iPod Classic or you can simply just hook it up via the headphones jack with a simple adapter.
4) Photo / Video Swap Drive:  Along the lines of backing up music (#2), you can also use it to offload photos and videos to your iPod with Media Reader, making it a great swap drive for storing additional media.
5) Video: Granted, the screen is quite small, but it could provide a little dose of entertainment for the kids, as it supports video. This is especially true given the storage capacity and you can optimize the movies for that screen size (320 x 240 px is a good starting point).
6) See the Light: For those who use their iPhone to find those missing keys in the dark, there is another solution with the iPod Classic. Similar to the Flashlight app, Griffin's iBeam can be used as flashlight or even as a laser pointer (great for presentations).
I'm sure there are other methods and uses for the iPod Classic, so feel free to share your tips or suggestions.