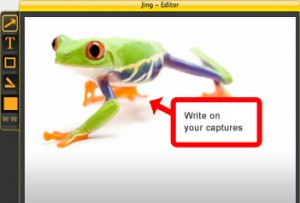 We all do screen captures-whether it's to illustrate a point or troubleshoot a problem. However, there are very few free screen capture applications that can capture both video and static screenshots with the ability to share, save and email the captured media.
Thanks to a friend, I recently discovered Jing, a FREE screen capture program that can do it all and much more!! From project collaboration to producing narrations, Jing's interface is elegant and simple, enabling you to use it for any project.
Some key features of this app:
Real-time screen capture of what you see on your computer monitor with the ability to do annotations
Capture both images and video, an ideal feature for doing live demos
Share it via email, IM, social or just save the file for future use
Basic package is FREE and is installed as a desktop application for easy access.
Click here to download the free version and let me know what you think of it.