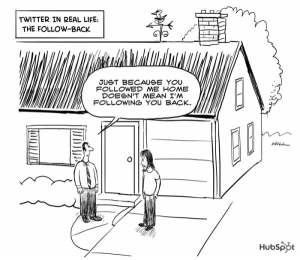 Twitter is all about following others but with over a hundred million Twitter users, the real challenge is finding the right followers that meet your interests.
In addition to the helpful built-in "Suggestions for You" functionality in Twitter, here are some helpful tools to help you find and mange followers as well as associated groups on Twitter:
WeFollow: Great tool for finding followers by categories and interests and you can get a high level snapshot of their reach.
Followerwonk: I started using this for competitive analysis but found it to be helpful to connect the dots between keywords and users as well as building your list of followers.
Twitoria: Need to do a little spring cleaning on your Twitter account? This tool enables you to identify friends that have not tweeted in a long time so that you can remove them, leaving room for real followers who really care about you.